DESCRIPTION
Absorbed in the countryside, the Camping Listro is a private very comfortable camping. It is situated on the western shores of Trasimeno Lake, a few steps from the old town of Castiglione del Lago, Umbria. Camping Listro covers an area of about 20,000 square meters, has 100 pitches large and grassy and some greats common areas. Camping Listro is situated directly on the shores of Trasimeno Lake and is therefore ideal for those who want to spend a relaxing holiday on the beaches of Lake and discover the beauty of the medieval village.
SERVICES
Among the many services offered by the Camping Listro are included: bar, market, washing machine and bicycle hire. It also offers free services such as: three groups of health services renewed with hot showers and electricity, service for disabled private beach, parking, children's playground tables and benches, volleyball court, beach volleyball, table tennis, refrigerator, TV, camper- service (for guests).
Camping Listro offers its customers helpful professional staff (English-speaking, French, German), tourist information service, entertainment in July and August, organized excursions, cruises and excursions.
Thanks to agreements with the services, customers of Camping Listro can use different services with special discounts on prices as: swimming, tennis, athletics track, football, windsurfing, disco, restaurant, beach and rental boats.
Around you can use golf, parachuting, sailing, riding and car rental.
Discounts:
for groups of people
10% for reservations of more than 8 days (low season)
Electricity included.
Free for children up to 3 years.
.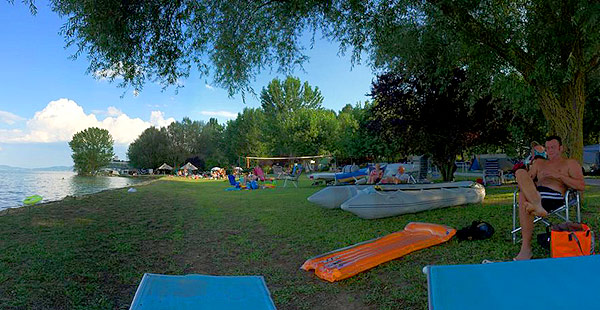 CAMPING LISTRO
Via Lungolago 06061 Castiglione del Lago (PG) – Italia – Umbria
Tel.: + 39 075.951193 | Fax : + 39 075.951193 Recapito Invernale: + 39 075.951193
listro@listro.it